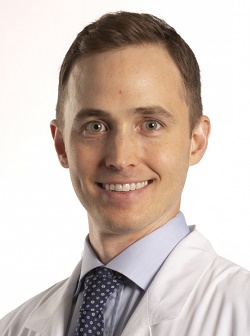 David D. Walker, MD, has joined the University of Arkansas for Medical Sciences (UAMS) as an otologist/neurotologist specializing in disorders of the middle and inner ear and treating hearing loss, including cochlear implantation.
Walker sees patients in the Ear, Nose and Throat Clinic in UAMS' Jackson T. Stephens Spine & Neurosciences Institute, 501 Jack Stephens Drive, Little Rock. He is an assistant professor in the Department of Otolaryngology — Head and Neck Surgery in the UAMS College of Medicine.
Walker completed fellowship training in otology, neurotology, and skull base surgery at Michigan Ear Institute, Farmington Hills, Mich. This training also covered neurological ear conditions and the complicated surgical procedures for tumors close to the base of the skull. His specialized training includes the treatment of superior semicircular canal dehiscence, encepholoceles, cerebrospinal leaks and the management of lateral skull base tumors such as acoustic neuromas.  
Walker completed his residency in otolaryngology — head and neck surgery and a general surgery internship at the University of Chicago.